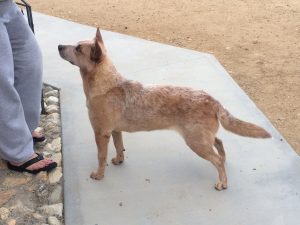 CH Austlyns Girl On Fire At Adams Ranch x Adams Ranch A Cut Above CGCA 
Kat delivered three boys on November 29, 2020. Unfortunately one passed away on December 2, 2020 from Fading Puppy Syndrome.  He kept losing weight and didn't nurse well.
The first puppy born was a boy with a red and blue half mask.  The other remaining boy has a plain face (no markings).  We won't know until their colors for sure until their color comes in.
This was a repeat breeding from our December 2015 Litter.
Both blue and red puppies are possible from this breeding.
WeeklyUpdates (general updates):
1 Week Old – December 6, 2020

During this week, the puppies are only sleeping and nursing. 
Their front dewclaws were removed on Wednesday, December 2nd.

2 Weeks Old – December 13, 2020

Puppies both weigh over 2 lbs now.
Their eyes are open and they are moving around a lot more.

3 Weeks Old – December 20, 2020

Both puppies now weigh over 3-1/2 lbs.  Both boys weigh slightly more than their sire Cutter did at this time, but not as much as their brother

Dexter

(from our 2015 litter) did at this age.
I removed the puppy pool and they are moving around a lot more.  They are actually walking rather than scooting!
I still think that the half mask boy will be blue, although I do see a lot of red around his face.  Additional color will come in this week and hopefully by week 4, I will be able to tell for sure.
The half mask boy is reacting to sounds.  He was actually born a day before the plain face one so I hope to notice the startle reflex on the plain face boy in the next few days.

4 Weeks Old – December 27, 2020

The half mask boy surprised me… he is red with a dark red mask!

5 Weeks Old – January 3, 2021

The weather warmed up so the boys were able to finally spend time outside with the other adult dogs.  When they came in, in the afternoon, they were pretty tuckered out.

6 Weeks Old – January 10, 2021

The puppies are getting really fast when moving around.  They have fun chasing each other and hiding under the kitchen chairs where they are "safe".

7 Weeks Old – January 17, 2021

Both boys went to get their hearing tested (BAER) and both can hear out of both ears (Bi-lateral hearing).  It goes without saying they also have selective hearing as well. Click here to watch the video of them getting their hearing tested.

8 Weeks Old – January 24, 2021

Both boys left for their new homes on Saturday, January 23rd.  The plain face boy is now know as Maxwell and lives with Elana and Andrew in Anaheim, CA.  The boy with the mask is now know as Fig and lives in Winnetka, CA with Tori and Scott.