---
We are expecting puppies in December 2023!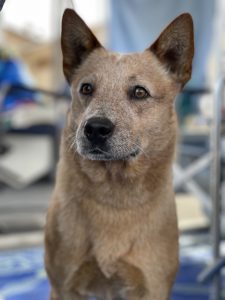 I am now accepting applications and will be taking deposits once the puppies are born.
Please fill  out my

puppy questionnaire

if interested in this upcoming litter.
Our goal at Adams Ranch ACDs is to produce the sound temperaments and healthy puppies.  In order to do this, we DNA test all dogs prior to breeding them. We use Embark and Gensol Diagnostics for these tests.  Additionally, the parents of our litters have their Hips, Elbows, Patellas, Eyes, Ears and Hearts tested before they are bred.  We post all results on OFA's website so everyone can verify the results.
We purchased our first cattle dog in 1999 and the second in 2000. At that time, we didn't plan to breed, so they were pet quality.  However, after experiencing the breed, we decided to take the next step and purchase a show quality puppy and perhaps look to start a breeding program. A lot of research goes into making breeding decisions and it was not something to take lightly.
In 2004, the first litter was born for Adams Ranch ACDs.  It was between our first show dog Max (SF Maxwell Smart) and a female that was leased from Lynn Carter in WA, Tegan (Creole's Shallazar's Tegan). Since 2004, we have bred multiple litters, and yet we strive to continue improving our lines.  What started with Max, has now seen 6 successive generations.
We started with conformation (the show dog arena) and over the years, we have expanded into performance events that Dock Diving, Barn Hunt, Farm Dog Certification, FastCat and Agility. In the future, there are other venues we would like to participate in as well.