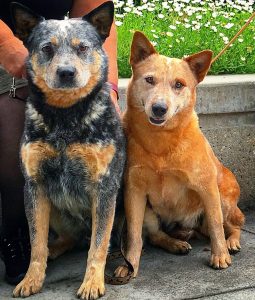 Adams Ranch A Cut Above

CGCA

x

CH

Austlyns Girl On Fire At Adams Ranch
In October 2015, we bred Kat (our red girl) to

Cutter (our blue boy)

. They produced 4 puppies – three girls and one boy.  One of the girls was red the other puppies were all blue. They were born on December 20, 2016.  This is the first time I was able to take extended time off when whelping a litter because I had planned vacation for the end of the year.  It was great to share some of their early development. Mattie (the red girl) went to live in the San Diego Area of Southern California with Barb and Dave.
We originally kept two girls out of this litter  – Jet (CH Adams Ranch Flying High) and Slash (Adams Ranch Razor Sharp). This was another first since we had never kept littermates before.  Jet is named after her great uncle Jed (Adams Ranch Jedi Fighter) She was the first puppy born and had eye spots just like Jed did.  We lost him to heart failure in 2015. At the time, Mike was also reading a book about a spy named Jet. He has never asked me to keep a particular puppy out of any of the litters I bred in the past.  So I told him, that Jet would be his puppy and he would need to raise her and show her if she turned out to be show quality.  He agreed. Jet entered the show ring at six months old and finished her AKC Championship in May 2017 when she was seventeen (17) months old.
Slash reminded me of Sydni, her grandmother.  I became attached to Slash and couldn't part with her and Mike had his very first cattle dog he could call his own.  In July, Both puppies were entered in their first AKC Show.  It just happened that it was the same show that their mother Kat completed her AKC Championship.  The following weekend, Jet won her first point, beating her sister, Slash.  The weekend after that, Jet won two more points.  I keep telling Mike he chose the best puppy, but I think as Slash matures, she will give Jet nice competition.  It is also fun to have a dog show partner with "friendly" competition.
In October 2016, the boy puppy was returned to us.  We renamed him

"Dexter"

. In October 2018, Dexter earned his Novice Trick Dog Title. He balanced out the two girls and they all a blast playing together.  Slash keeps Dexter in check and Dexter keeps Jet in check.  When it is just the two girls playing, Jet was the alpha between them and is the instigator of trouble… .
In May 2019, Slash went to live with Kay up in the Monterey Bay area of Northern California.  There she joined two of Kay's smaller dogs and provided more security to Kay's home.