Please click the link below and fill out the info if you are interested in an Australian Cattle Dog from Adams Ranch ACDs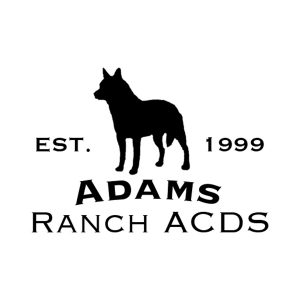 Adams Ranch ACDs does not discriminate on the basis of race, color, religion (creed), gender, gender expression, age, national origin (ancestry), disability, marital status, sexual orientation, or military status, in any of its activities or operations. However, we do reserve the right to deny you purchase of one of our cattle dogs, products and/or services.
The purpose of this questionnaire is to obtain information about you and your family to be able to best match you with the puppy that will best suit your desires and needs. My intent is to place my puppies in their new homes forever. If you are a veteran herding/working dog or a dog sports competitor please let me know prior to completing this questionnaire.
First, we would like to thank you for choosing Adams Ranch ACDs and congratulations on your decision to invest in a purebred Australian Cattle Dog (ACD)! In our breeding program, the required and most recommended health testing has been on the parents of our puppies. Our policy is to do our best to produce puppies that are within the breed standard in type and temperament. We do our best to provide our customers with dogs that will have the best possibility of living long, sound, healthy lives . We carefully analyze the genetics, pedigrees, and structural qualities of each potential parent prior to breeding. We pride ourselves on matching pairs that will complement each other to complement one another, the offspring and the ACD breed. The genetics are very important! Healthy dogs make happy families. I hope to be able to match you with your next family member to create many years of memories. with.
Please answer all questions honestly. There are no right or wrong answers. I will review the applications, and create a list of prospective puppy parents from this questionnaire, so please fill it out completely.
Thank you again for choosing Adams Ranch ACDs. We look forward to making you an addition to our ACD (Australian Cattle Dog) family.
Once you complete the Puppy Questionnaire, please email it to acdmom1025@netzero.net as an attachment or copy and paste it in the email message. Please do not hesitate to contact us with any questions.