The puppies are here!  Arrived September 10, 2022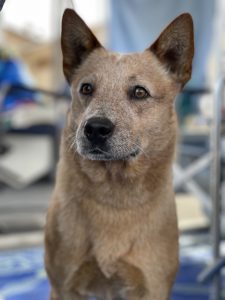 Cutter and Brick produced 9 boys in this litter.  We have an All Star Team with players from past seasons.
Sandy Kofax, Yogi Berra, Lou Gehrig, Rod Carew, Chipper Jones, Ozzie Smith, Hank Aaron, Dusty Baker & Reggie Jackson
This is a blue to red breeding and it produced both blue and red puppies. 
If you are interested and want to be placed on my waiting list, please fill our Questionnaire
To view the pedigree on this litter, click here!
Below are past litters of puppies that were bred  here or co-bred and born elsewhere. All puppies are now in their new loving homes.
Cutter & Kat's Litter December 2015

Boss & Sydni's Puppies – Born December 1, 2011

Kratos

Bailey

Tinka

Rogue

Kazan & Abby's Litter December 2007 (co-bred)

Luke & Lucy's Litter April 2007

Luke & Abby Litter November 2006 (co-bred)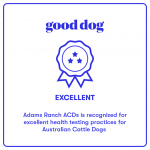 Badges
3 images